Garage doors come in several different styles. Which style you choose can depend on your preferences, style of your home and your budget.
Traditional style doors are typically steel or wood construction and come in a variety of colors and insulation options. Carriage House style doors are a popular choice for numerous house styles. For modern homes, glass or aluminum doors are a desirable option.
Traditional Style Doors
Steel or Wood construction
Insulated or un-insulated
Multiple paint colors
Doors in this category:
Carriage House Doors
Steel or composite construction
Insulated and energy efficient
Multiple paint colors
Ultra-grain, woodgrain paint finishes
Doors in this category:
Modern Doors
Steel or Aluminum construction
Insulated or Un-insulated
Several frame/solid panel color options
Several glass/panel options
With/without windows (Modern Steel)
Doors in this category:
If you have any questions give us a call 303.565.6409.
Click on the door model of your choice to view additional details and pricing.
Classic Steel & Classic Wood Doors
Durable, low cost, a single layer or insulated 3-layer steel construction and prestigious real wood construction garage doors. Available in beautiful short or long panel and flush designs. Several window design options.
Semi Custom Steel Doors

Beautiful, virtually maintenance free, strong, dent resistant and energy efficient garage doors. Available in short and long panels with several window options. Clopay's' Patented ULTRA-GRAIN finish creates a real wood grain look and a stunning transformation that will stop your neighbors in their tracks. Carriage style hardware is available for these doors.
Carriage Style Doors: Steel, Faux Wood & Composite

Carriage style garage doors come in steel, faux wood, and composite overlay construction. Dramatically change the face of your home. Popular designs. Fashionable, durable, high insulation values.
Avante Collection Doors

Think outside the Box with the residential grade all Glass Avante Door. We have installed these doors on garages, in living rooms, and in office buildings.
Wood Premium Elite Doors

Colorado Weather is BRUTAL on wood doors and they require maintenance.
When selecting wood doors, this is the ONLY wood door we would recommend putting on your home.
"The Clopay wood doors are built on request by master craftsmen. I have been to the plant and I have seen it for myself. The amount of attention given to every detail of this VERY uniquely constructed door is amazing. From design techniques that prevent rotting, swelling, and weight fluctuations to the four-step finishing process that makes the door more beautiful than most dining room tables. Real Wood Doors are not for everyone, but if you are going to get one, the Clopay *Limited edition doors, and Semi-Custom doors are the only Ones I recommend."
Chris Chapman, Owner of One Clear Choice
We can help you with your project from design to completion today.
303.565.6409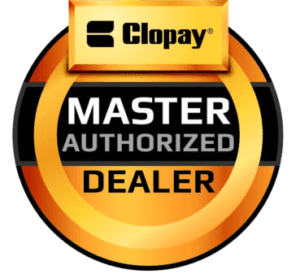 One Clear Choice is the Master Authorized Dealer for Clopay Garage Doors.
Clopay is the only manufacturer that offers the Gold Bar warranty package and is backed by the "Good Housekeeping Seal of Approval".
We also offer quality products from Ankmar, CHI, and Amaar.