CUSTOM WOOD GARAGE DOOR ON DISPLAY AT KENNESAW SHOWROOM
THE ONLY WOOD GARAGE DOOR DOOR YOU SHOULD EVER BUY!
     Working from a professional drawing or just a sketch on a notepad, Clopay can create the doors you've only imagined, with windows or without, in wood like Knotty Alder, Spanish Cedar, White Oak, Ironwood and African Mahogany. Each garage door is handcrafted from the material of your choice using your precise specifications.
CREDIBILITY YOU CAN TRUST. QUALITY YOU SHOULD EXPECT!
WOOD GARAGE DOORS. CUSTOM WOOD GARAGE DOORS
OVERVIEW
OVERVIEW
The RESERVE® WOOD collection CUSTOM series features custom handcrafted garage doors with window, design, and wood options as unique as your imagination.
CONSTRUCTION OVERVIEW
Handcrafted four or five-layer construction.
Insulated with polystyrene for increased energy efficiency.
Premium-grade hardware, rollers and track assure smooth, quiet, long-lasting operation.
DESIGN OVERVIEW
Unlimited custom garage door designs.
Unlimited wood species.
Factory finished doors available in seven popular stains or painted.
Collection overview video
DESIGN OPTIONS
CONSTRUCTION
Handcrafted 4 or 5-layer polystyrene insulated wood doors. R-value 5.9.
Crafted from the finest wood species, harvested from sustainable and naturally fallen forestry.
Unique one piece drip cap design keeps water from flowing behind grooved overlays for improved durability.
Premium grade hardware, rollers and track assure smooth, quiet, long-lasting operation.
Standard bottom vinyl weatherseal helps seal against the elements. Additional protection will be provided with an optional aluminum retainer.
Calculated garage door section R-value is in accordance with DASMA TDS-163.
BROCHURE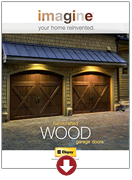 INSTALLATION AND CARE
CLICK ON THE GARAGE DOOR IMAGINATION TOOL AND DESIGN DIFFERENT OPTIONS TO FIND THE BEST GARAGE DOOR FROM YOUR HOME.
What Makes One Clear Choice Garage Doors Different?
Box Stores Do NOT install The Garage Doors And Openers They Sell. They Sub-Contract The Labor Out To Dealers Like Us.
What Makes One Clear Choice Garage Doors Different?
Take Out The Middle Man And Go Directly To The Garage Door Professional.
We Install All Of The Doors We Sell.

We Know More About Garage Doors Than The People You Will Typically Find On The Sales Floor At Do It Yourself Stores.

We Are Backed By The Industry Leader, But NOT All Of The Companies That Are Sub-Contracted By The Box Stores Are Backed By The Manufacturer.

Because We Are The Pro's We Can Insure That The Garage Door Is Ordered Correctly.

We Are Faster. With Us You Call. We Measure. We Order. We Deliver. We Install. Usually Up To Two Weeks Faster Than When You Go Through A Third Party Sub Contracting The Labor Out For The Garage Door Installation.

We Handle Our Warranties Directly. Box Stores Are Reputable But They Rely On The Sub-Contracted Labor to Provide Service In Warranty Situations Which Could Be Frustrating vs. Going Directly To The Installing Company That Knows How To Fix The Problem First Hand.
     When It Comes To Garage Door Installation and Going To A D.I.Y. Store You will Save Money, Time, And Frustration By Finding A Garage Door Professional Yourself!
We have A Low Price Guarantee. We Are Clopay Master Authorized Dealers. We are Backed By The Trust Dale Guarantee, Google Verified, and Five Star Rated Guarantees. Our Employees Are Background Checked MULTIPLE times. Our Showrooms Are Garage Door Showrooms Vs. An Eight Foot Section In An Aisle. The Phone Representative You Speak With Knows The Products You Are Looking For. They Do NOT Work In Gardening or Paint. They Are Garage Door Professionals!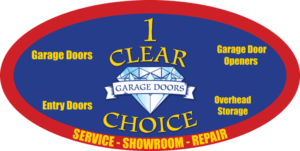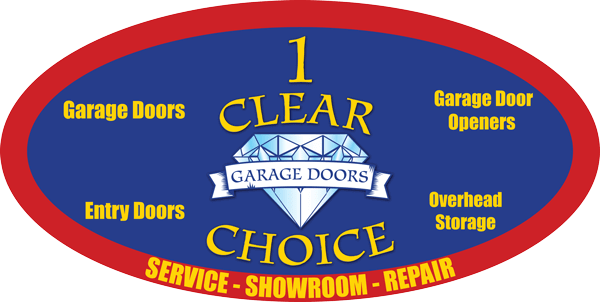 ONE CLEAR CHOICE GARAGE DOORS: ATLANTA,GEORGIA
SIX SHOWROOMS. CREDIBILITY YOU CAN TRUST FROM A GARAGE DOOR COMPANY IN YOUR NEIGHBORHOOD.
Please Call For Pricing. Pricing Will Be Available On This Page Soon!
ONE CLEAR CHOICE GARAGE DOORS IS A MASTER AUTHORIZED DEALER. THE INSTALLERS CLOPAY TRUST.
Garage Doors Have Changed A lot. Imagine The Possibilities and Check Out These Beautiful and Affordable Models That Will Give Your Home A Makeover!